What's NEW
ScarlettsWeb is proud to announce to their fans that they are officially sponsored by Scarlett Cosmetics.
Buy ScarlettsWeb's ALBUM
Debut record features 14 explosive tracks, including a video for the single "My Life"… purchase the entire record or download individual songs.

TOUR News
ScarlettsWeb will be performing on the Camplified Tour during the Summer of 2006 as well as at select locations throughout the Northeast… find out when they will be spinning their web in a town near you.
Interviews:
"A Little Bit of FUN…"
View footage of ScarlettsWeb performances and interviews about their music.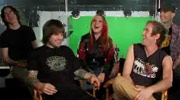 Who is ScarlettsWeb?
Band Bio
In an era when image wins out over substance all too often, leave it to New York City to come to the rescue, by way of a female-fronted Rock and Roll band: ScarlettsWeb.
On their debut album, ironically titled "Greatest Hits", ScarlettsWeb combines epic rock-riffage with infectious hooks and punk rock attitude for a raw, honest, and real sound that is at once universal and completely their own…
Learn more about ScarlettsWeb and all the band members.
You Need MERCH
We Need Gas Money!
It's a WIN-WIN situation when you purchase from ScarlettsWeb because, not only do YOU get some really awesome stuff at really low prices to listen to and/or wear, but WE get to make money for gas so that we can keep doing what we do best – perform for you! View what we have to offer.
GUESTBOOK
To get behind-the-scenes info, news, and personal emails from ScarlettsWeb sign up for our Guestbook.